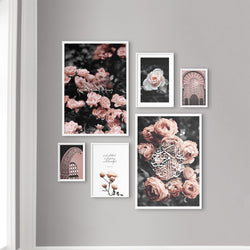 The Soft Rose Combination, Various Sizes
Included:
Alhamdulillah Rose, 50x70cm
Al Hajj Rose, 50x70cm
And Allah is Forgiving, 30x40cm
My Mercy Rose, 30x40cm
Pink Masjid Door, Casablanca, Morocco, 21x30cm

Window from Quranic Room, Castle Marrakesh, 21x30cm
For the combinations frames are optional, can be found under the frames category. (WITHIN EU)
Design By: Simone Dønvang

Our prints are produced on 200gsm Museum-quality poster made on thick and long-lasting matte (uncoated) paper and are shipped in secure cardboard tubes. They are printed on a high quality photo printer, which brings more color and depth into the prints. In larger orders, the prints are separated by a layer of silk paper.